The coolest part about a cash out refi? You get a big chunk of cash and pay no taxes!
If you got a year-end bonus of $34,577 you'd have over $10k in taxes taken out. But since a refinance is just a loan, nothing is withheld. It feels great when a $34,577 wire hits your account – way more than my original investment in the property.
The goal is to use these proceeds to acquire an additional rental property. You can think of it as a two step way to use the equity in one rental as the down payment on a new rental. I don't even have to put up more cash to purchase another property!
Let's take a look at how we got here.
The Background
I bought a turnkey rental property in Memphis back in July 2014. That means someone else did the rehab and placed the tenant, I just purchased the finished product at market rate. Nothing special on my end.
The purchase price was $93k and I put in $24k for the down payment plus closing costs. Fast forward seven years and I got $34.5k from this cash out refinance. And I should mention, over those 7 years it produced $26k of cash flow!
That means each year I averaged $3.5k just for putting up with a few minor phone calls (tenant turnover, minor repairs, etc.). The property manager did most the work, so even if you think "I am busy, I don't want more headaches", what if you were paid $100s of dollars an hour for those calls? Even just considering the cash flow return, that's what I earned.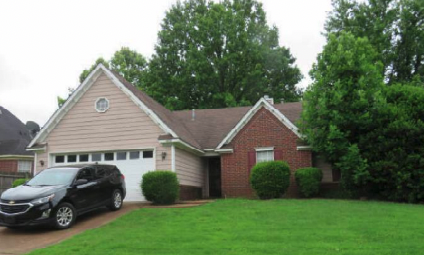 Keep Reinvesting the Equity
The key reason why investing in rental properties provides incredible returns? Safe leverage.
That may be somewhat of an oxymoron. Leverage is inherently more risky than not using it. But for rental properties everything is stacked in your favor: 30 years of fixed rates at below what the free market would charge. If you can ride out a decade or two in an attractive market, you are going to win big.
When I purchased it back in 2014, I just had to provide 20% and the bank covered 80%. So they paid 4x more than me, but I got all the upside for appreciation and cash flow. So as the property increased in value and the tenant paid down the principle for me, those percentages shift. Before the refi I owned 55% and the bank just 45%.
That shifting balance is great, but extra equity doesn't earn you any more money. You have to put it to work to get the exponential benefits. One way to access that money is a cash out refinance – essentially starting a new 30 year loan back at 25% equity.
The Process
The paperwork on a refinance is the same as applying for a mortgage in the first place. A ton. They also do an appraisal on the property to see what it is worth, which determines how much cash out you can get.
For this rental, the appraisal came back lower than expected. 79% of the Zillow price at $135k. Of course Zillow isn't correct either, but it does give another data point. The way they pick the number is by looking at recent sales – in this case in the last year within 1 mile, same approximate size and bed/bath.
We came back and told the appraiser "look at these other sales". They ultimately came up to 83% of Zillow price at $142k. That was good enough.
My take away? In a rapidly appreciating market, the appraisal on a refi might not keep up (whereas a purchase they would likely give us the benefit of the purchase price anchor). There were some sales from last August that they used as comps, hurting our average since those didn't have the 10-15% increase in the last year.
The original loan was at 5.375%. The new one would have been at 4.25%, but I ended up paying $399 extra to make it a 3.49% loan instead. You can run the numbers yourself, but a good mortgage broker will tell you what the payback period is. Meaning I pay $399 now and it lowers my payment $35 a month, resulting in a payback of less than a year. That was a great deal!
Since I am at this lower rate, my principle and interest payments went from $417 to $477 per month. So I just pay $60 more per month.
Reinvest for Exponential Growth
I previously did a cash out refi to fund a new purchase. My property #1 was refinanced after just 6 years to purchase #3. Now #2 is refinanced and I'll start finding #4. With a little patience, I can achieve exponential growth with my rentals spawning more rentals!
Not to mention my property #1 is again up to 50% equity mine, 50% the bank's. Property #3 at 40% mine, 60% the bank's. So it won't be too long before those can go through a cash out refinance themselves.
"Real" real estate investors would scoff at this because the way they go about it to find below market deals, rehab them, then doing a cash out refinance and repeat. With this method they do a lot more work, but can take that feedback loop from 6-7 years to 6 months. I think that's great and may do it some day, but I believe absolutely everyone can do my approach – even busy professionals.
Get started the lazy way and you'll still see incredible exponential growth!