My wife is wicked smart.
She chooses to disseminate her knowledge through movie quotes. There are some real nuggets of wisdom.
For example from Mike Damone's five point plan in Fast Times at Ridgemont High:
Not relevant today is the linguini and white clam sauce, although that is a classy move. Rather this:
3. Act like wherever you are, that's the place to be… "Isn't this great!"
This is great life advice, but the same logic shouldn't be applied when analyzing investment opportunities.
Several soon-to-be investors have asked my thoughts on various new construction rental properties. Let's dig a little deeper to see if they really are great.
No Maintenance!
The number one reason a brand new property is attractive is that the repairs and maintenance will be zilch. At least for a while.
That can certainly help the numbers. You will still have to save for big ticket cap-ex items like a new HVAC in 10 years, but fewer small monthly upkeep items like a broken garbage disposal. When an issue involving the garbage disposal comes up, you may want to use a website like CALLSTEVESPLUMBING.COM/PLUMBING/GARBAGE-DISPOSALS/ to find out how to get it repaired, although this should not set you back too much. A rough estimate is an extra 5% of the rent collected for the first couple years. $50 a month on $1000 rent. Garbage disposal repairs can be a nightmare to fix if you don't find the right professional to fix it. Head to www.moffettplumbing.com/areas-we-serve/plumber-westminster-ca/ if you are currently in this troubling predicament.
When it comes to things like the aforementioned air conditioning system, getting an ac tune up can ensure that regular maintenance keeps the unit in working condition, saving energy costs, and could protect the warranty.
Couple thousand bucks over a few years. All the big ticket items start at 0 years of life too, which you could value at another couple thousand dollars of future savings compared to a refurbished property.
Hardly over the top awesome.
Great Neighborhood?
With a whole new tract of homes, you might assume the neighborhood will be pretty nice. Everything is new right?
Sure, I think that is a safe assumption.
But what is the split of owners vs. renters? If you are considering buying a new rental property, they are likely marketing the properties to investors.
Too many rentals flooding the local market can be an issue. Especially with so many finished and placing tenants at the same time. This can have a softening affect on rents.
So it might be a great neighborhood in some respects, but overall is it a great neighborhood for a rental property investor?
Location, Location, Location
The biggest objection I have to new construction rental properties is the location. Think about it – where do they find a big tract of land to develop?
Oh look, here is the land no one noticed before right next to the freeway, just 10 minutes away from high paying jobs … NOT!!
It's in the boonies. Generally development of cities is an expanding circle. New developments are the farthest away.
Let me pull up an example. Purchase around $180k, rent around $1600 a month. Beautiful Salisbury, North Carolina.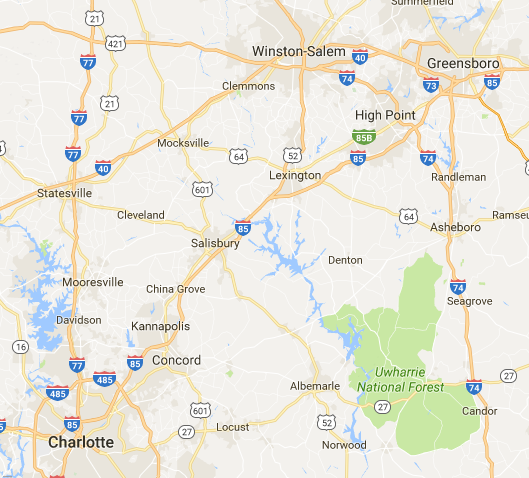 Within 50 miles of 3 major metros: Charlotte, Greensboro, and Winston-Salem. In other words – a long way from a lot of jobs.
I should note this isn't always the case. Just typically.
The location matters because times are pretty good right now. If 5 years from now we are at the bottom of the cycle, where do you think people are going to buy homes? Close to where they want to be where there are still great deals, or far away? So which area is going to have the bigger price swing?
(A caveat is that sometimes there are legitimate reasons that far away suburb is attractive. Maybe a new train line is put in making it super easy to get downtown. Maybe there is a new office park or a big employer is expanding nearby. The commercial real estate industry is currently booming, and with new startups emerging on a regular basis, there is always going to be a need for a small office space rental opportunity. For example back in 2010 when I was just getting started, there was a biotech hub underway near Denver. Perhaps you buy into that narrative. Or even self-driving cars making commutes easier – just be aware you are investing based on that narrative.)
The Market Cycles
New properties are only built when it is profitable to do so. That is a signal that we are pretty high up in the cycle (see How to Visualize the Real Estate Cycle for more background).
That is precisely the time you want to be more conservative with your rentals. Hunting for the best rent to value ratios. Going to markets with smaller swings.
When you suspect you are closer to the bottom of the cycle, that is when you can take bigger risks. Sacrificing a little on the rent to value ratio for better neighborhoods and appreciation potential. Picking up properties in more desirable cities at a discount.
I Get the Appeal of New Construction Rental Properties
They sound great, but don't stop your analysis there. Dig deeper.
Developers usually have larger marketing budgets than rehabbers, so these new construction deals are likely front-and-center when available.
I also believe they give bigger referral fees to companies like Jason Hartman and Norada. So if you work with a counselor there (like I do on my properties), they might see if you are interested in new construction before considering other options.
You know better than to blindly agree to "isn't this great?" You are capable of your own analysis, even if it is as simple as looking at a map.
What do you think – do the pros outweigh the cons for new construction rental properties?