What a crazy year. Anyone here have money in the stock market? What a wild ride.
You know what hasn't changed? My rental properties. So far so good.
People are still looking to move despite the pandemic, so the rental market is still doing well. This means that everyone involved in the housing industry, from estate agents to local movers, are all still working and getting people into new homes. This is good news for the market, and good news for me!
A Quick Look Back
I am the proud owner of 3 properties I have never seen that are located thousands of miles away.
Here is how it went down:
July 2011 – Bought Atlanta area property for $20k investment
July 2014 – Bought Memphis area property for $24k investment
I think of my portfolio as a snowball gaining 30% more mass each year – yes, I am getting a 30% a year return. My role is to keep it moving with as little as work as possible. I'm pretty hands-off.
Added together, my property managers now collect $3280 in rent each month. My mortgage payments total $1976. With ~10% to the property manager, I'm clearing $1000 a month in cash flow if all goes well!
Let's look at each individual property, then do a bit of analysis.
Rental #1 Numbers – Atlanta

Just keeps trucking. Somehow the original tenant still after nine a half years!
Keeping turnover low and enjoying appreciation is the secret to success for this one. The cashflow isn't amazing since I did a cash out refi (making the mortgage payment higher) and haven't aggressively raised the rents. But it does bring in a little cash each month, in addition to nearly $10k in appreciation for 2020.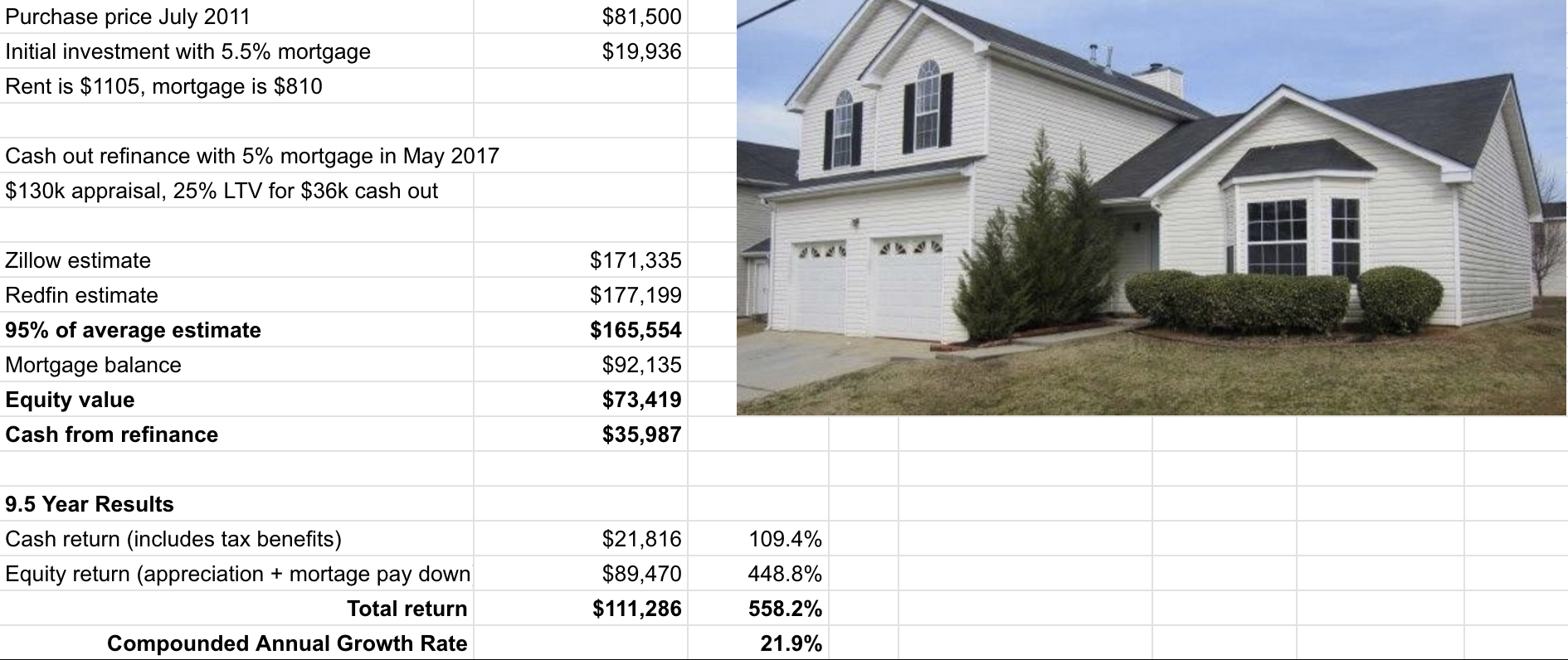 Rental #2 Numbers – Memphis

Look at that cashflow! Clearing over $400 a month after expenses for the year.
This property has always brought in the cash. In fact, it has made the same amount over 6.5 years as the Atlanta property in 9.5 years. Until recently though, the appreciation was pretty meh. Fine but not great. Then boom, $25k in two years!

Rental #3 Numbers – Memphis

This was the trouble property for 2020. I received notification a week after the rent was due that not only had the tenant not paid, when the property manager contacted the tenant, turns out they moved out!
So we scrambled for a quick turnover process. Making maters more worrisome, it was right at the start of the pandemic and I didn't know if anyone would be looking to move. So we priced it quite low and found a good tenant on a $50 to $100 per month below market rent.
Any turnover is expensive, this one about average I'd guess. The total dollar amount was high, but we did get to keep their whole security deposit, which helped but didn't cover it all. One negotiation helped: I had the painter breakdown the price per room and I'd decide which to do rather than the whole house. Sum total of the rooms came well under his original quote anyways. Besides, we did the trash removal ourselves to save a little more money, though I am aware that a professional Junk Removal expert would have done it in a better way.
Then later we had to replace the fuse panel. I knew it was just ok when purchasing the property, but this was a bummer and cost $1k.
The negative cashflow was more than evened out for with excellent appreciation though. And I expect 2021 to be a much better year for this property!

Overall Portfolio Numbers

Another year in the books, exact same yearly rate of return: 32.5%! It is such an absurd number I expect it to go down eventually, but it still hasn't.

My hope is that you notice I didn't do anything special – I purchased turnkey properties at full price. Not some crazy auction fixer upper that was a lot of work.
And I'm not lucky timing some hot Miami market. Just year in year out boring old middle America.
It is more work than an index fund, but well worth the effort. You can do it. Make 2021 the year you get started.