Don't believe everything you come across on the internet. Just this.
I spent zero time working on my rental properties the last half year. They are thousands of miles away and I have properties managers who collect the checks. Pretty darn passive even if there is a phone call every once in a while.
And in just the last six months my 3 property portfolio added another $24k! If it is hard to believe, I suggest you take a closer look, don't just dismiss it.
A Quick Look Back
I am the proud owner of 3 properties I have never seen that are located thousands of miles away.
Here is how it went down:
July 2011 – Bought Atlanta area property for $20k investment
July 2014 – Bought Memphis area property for $24k investment
I think of my portfolio as a snowball gaining 30% more mass each year – yes, I am getting a 30% a year return. My role is to keep it moving with as little as work as possible. I'm pretty hands-off.
Added together, my property managers now collect $3245 in rent each month. My mortgage payments total $1918. With ~10% to the property manager, I'm clearing $1000 a month in cash flow if all goes well!
Let's look at each individual property, then do a bit of analysis.
Rental #1 Numbers – Atlanta

This is the original money maker. Perhaps it was just lucky timing, but sure makes me wonder if I had more savings back then how many I would have purchased.
The online estimates I feel ran up a little too high. So I took the pessimistic view that it is only worth 95% what it says on websites like Zillow. Otherwise the return would be even greater!
And remember, this one I got my original investment out plus some already during my refi. Queso en el banco.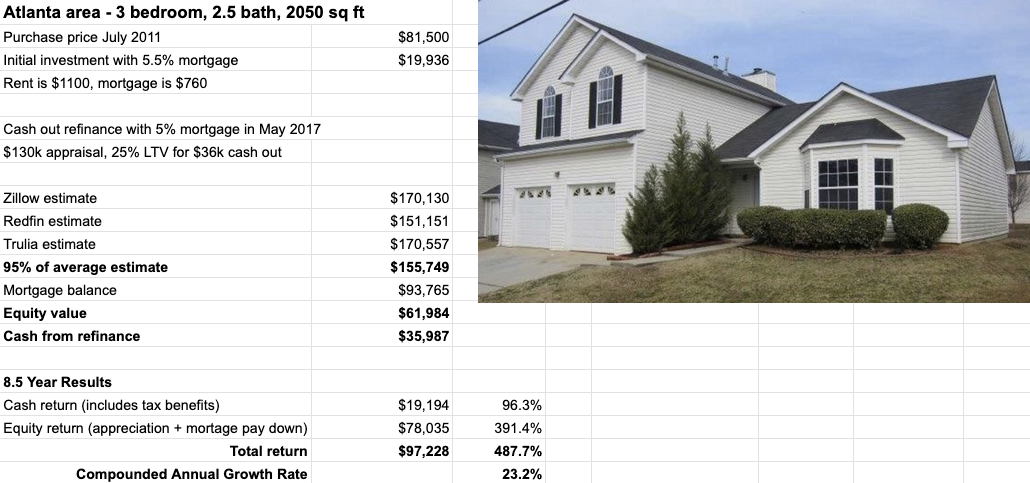 Rental #2 Numbers – Memphis

This is the prove it property. It proved to me the first one wasn't just luck. It is in a less exciting city at not as perfect market timing. And it still works great!
Compared to rental #1, much more of the return here is from cashflow. It has returned $16.3k in 5.5 years vs. $19.2k in 8.5 years for #1. It showcases the multifaceted returns with rental properties.
Still plugging away at a 22.3% compounded annual growth rate. I'll take it.

Rental #3 Numbers – Memphis

The little baby is growing up so fast. I have a theory that the first 2 years of owning a rental property you really don't know how well it is doing. So sit back and don't evaluate things for a while.
Well this one I also took a 95% estimate of Zillow et al. because it ran up too fast to be believable. Even with my hedge, it has still gained $21.7k in appreciation this year!
And it is also a continuation of the cashflow theme – $11.8k in just 2.5 years, even more extreme that the other Memphis rental.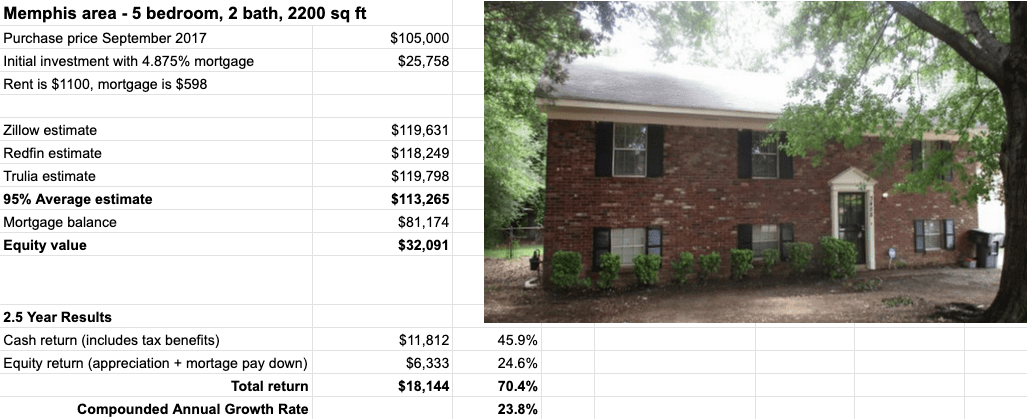 Overall Portfolio Numbers

Twice a year I do this analysis. Twice a year I warn you that these results are better than projected. A 32.5% yearly rate of return! That is absurd.

I honestly think things might settle down closer to 25% a year given a full market cycle. I highly suggest you run a quick calculation – how does a 25% yearly return compare to your other investments? Where will you be in a decade or two?
The people who want to waive it off will say "well you have to risk adjust those returns, if you get that great of a return it must be because the risk is greater". Don't be that person. Take the time to explore it.
You'll find these deals involve a little work which keeps big investors from snatching them all up. You'll find that the financing over 30 years that is possible in the United States is really why these returns are possible for the every day person with just tens to a few hundred thousand dollars.
And hopefully you'll find that it is worth the tiny hassle of learning, purchasing, and supporting a small portfolio of properties. You can do it. It isn't that hard and may just pay you a million dollars over the course of 20 years.
What kind of minor inconvenience would you put up with for a million dollars?
Here are the complete numbers. I also ran a quick calculation – if the next 6 months I made zero cashflow and each property dropped 20% in value, my overall return would be down to a still impressive 24.2%. Not a bad worst case scenario.